Ildikó Husz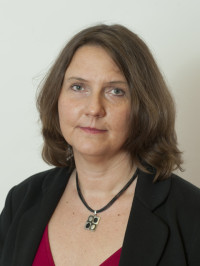 Download CV
Senior Research Fellow (TK Gyerekesély)
Academic Title: PhD
Administrative Duties: Gyerekesély-kutató Csoport
Email: husz.ildiko@tk.hu
Phone: + 36 1 224 6700 / 5222
Building: T (Floor, room: 2.36)
Research Interests
family sociology, demography, social inequalities, economic sociology
Selected Publications
Husz, I. (2013): "It's so little money you could make as much at home". Options for work in an impoverished rural region of high unemployment. Corvinus Journal of Sociology and Social Policy. Vol 4. No.1. 33-54.
Czakó Á. - Husz I. - Szántó Z. (2011): Meddig nyújtózkodjunk? A magyar háztartások és vállalkozások pénzügyi kultúrájának változása a válság időszakában. BCE Innovációs Központ Nonprofit Kft., Budapest.
Husz I. (2011): Alacsony végzettség – sok gyerek? A magas termékenység néhány területi és etnikai aspektusáról. Demográfia 1: 5-22.
Husz I. (2008): Ethnic effect? Structural effect? Childbirth Among Roma and Non-Roma Women of Low Educational Level in Hungary, European Population Conference, Barcelona. Conference Papers. http://epc2008.princeton.edu/download.aspx?submissionId=80468, 2008
Husz I. (2006): Iskolázottság és a gyermekvállalás időzítése, Demográfia 49(1): 46-67.
Csizmady A. - Husz I. szerk. (2004): Település- és városszociológia szöveggyűjtemény, Gondolat Kiadó, Budapest, 2004
Husz I. (2002): Család és társadalmi reprodukció a 19. században, Osiris Kiadó, Budapest
Husz I. (2001): Az emberi fejlődés indexe, Szociológiai Szemle 2:72-83.
Husz I. (2001): Regionális különbségek Magyarországon. Kísérlet a területi különbségek bemutatására az emberi fejlődés indexe alapján, Lengyel Gy. (szerk): Indikátorok és elemzések. BKÁE Bp. 77-85.
Husz I. (2000): Az angolszász családtörténeti kutatások és hatásuk a magyarországi történeti demográfiára, Szociológiai Szemle 2:81-104.
Husz I. (2000): Apáról fiú(k)ra. örökösödési jogszokások és gyakorlat Zsámbékon a 19. század első felében, Korall Társadalomtörténeti folyóirat 2: 5-22.
Research Projects
Give Kids a Chance Research Group